By Jarrett Kaufman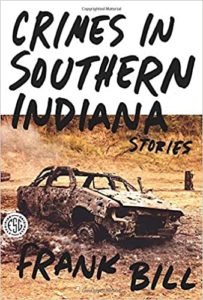 Rougarou: Can you talk about your connection to the Midwest?
Frank Bill: I was born in Corydon, Indiana. A small rural midwestern town. Raised on my grandparent's farm and in VFW and American Legion Halls. I was either in the woods with my cousin, father, or grandfather hunting deer, rabbit, squirrel, building forts, fires, mushroom hunting and cutting wood or with my father or grandmother listening to war veterans tell stories while playing Euchre or 31.
Rougarou: When did you start writing fiction?
FB: I've kep
t a journal since I was a kid. I'd always told my buddy someday I wanted to be a writer. Getting a factory job on nights, I began to read quite a bit on my down time. Then as you get older, you ask yourself, do I really want to do this for the rest of my life? I wanted to do something more, something that was important to me. And somewhere around 2000, I saw Fight Club, saw that it was based upon a novel by Chuck Palahniuk. Loved the film. It really rang a bell for me at the time. Bought the book. And everything Chuck had written up to that point. And I also began reading similar authors with a minimalist style. I discovered Southern writers whom I could identify with, Larry Brown being the biggest influence. His people and places were the same as my people and where I come from only in Indiana. In a sense he became the author I most admired and looked up to. And I basically taught myself to write from being a voracious reader, rereading certain books over and over, breaking plots down, understanding beginnings, middles, ends. Understanding how stories are told. And the thing for me was I didn't wanna work in a factory forever, and I wanted to write stories that were in a sense important, something of depth about people and their situations and struggles but make it interesting.
Rougarou: It seems that the Midwest has been having a literary moment. What do you see happening in Midwestern literature right now?
FB: Not sure. I don't really keep up with who is writing in the Midwest. What I read is all over the place. Though I've read authors such as Kyle Minor, Alan Heathcock, Donald Ray Pollock, Bonnie Jo Campbell, Melissa Fraterrigo, Roxanne Gay, and Eric Shonkwiler, all of whom are from the Midwest.
Rougarou: How would you describe your writing in relation to Midwestern literature and/or its literary traditions?
FB: What I write is somewhere between grit and gothic with a slap in the face of the human condition, which is anything from the struggling or working class, war veterans, drug and alcohol addicts and what we've lost as a society.  I write about what I know, see and sometimes have even done myself.
Rougarou: Do you feel the Midwest has lost anything essential to its regional character and culture due to the economy, drugs, and alcohol as you mention before?
FB: I don't think its lost anything. If anything it's had those elements added into [some areas] to exploit its people even more. Especially when a small town goes from having drinking and driving and theft or domestic disputes to marijuana or situations involving meth, buying and cooking it, being strung-out on it causing disputes, causing larger scale crimes and of course addiction. And being arrested only to repeat the same offenses over and over. Add to that Heroin and Opana (Oxymorphone). Add HIV, that's something that escalated up in Austin, Indiana.  And even around my area to an extent. If anything, the Midwest has lost instilling values into its younger group, making it clear that you gotta earn your way, learn about your people and where they come from, how they got here, how they evolved. History seems to be a forgotten element these days.
Rougarou: "Gothic" and "rural noir" are popular terms often used to describe a lot of Midwestern literature lately, including your own work. Do you agree with that categorization?
FB: Gothic I get, but I hate being categorized. I believe good writing is just that, good writing regardless of label. And good writing has a bit of everything in it. Crime, action, adventure, fantasy, and some truth. It's the culmination of imagination that shapes all of it into a story. What I write is more up in your face literature, meaning I'm not wasting time on the page. I guess a good description might be Grit-lit? But I'm not attached to labels.
Rougarou: I like your philosophy of "not wasting time on the page." Did any of the minimalist writers like Ray Carver, Tobias Wolff, Amy Hempel, Richard Ford and/or Mary Robison influence you?
FB: Yes, Larry Brown. He never wasted time in his stories. Even Chuck Palahniuk or Jim Thompson, John Ridley, Will Christopher Baer, Craig Clevenger or even Pinckney Benedict, they all get to the point. All these and the ones you've mentioned have influenced me.
Rougarou: What about the Midwestern landscape is unique or integral to your work?
FB: Setting is always someplace familiar, which in my case is southern Indiana. And that's important. It's where I'm from. It's my people. My setting comes from a real place. And real people, either from the stories I grew up around, stories I was a part of or researched to create my characters and understand their surroundings in order to create the setting. And there's nothing unique about it other than it comes from a real place.
Rougarou: Would you consider southern Indiana more Southern than Midwestern in its values and traditions? I know a lot of Southerners migrated to the southern regions of the Midwest before and after the Civil War.
FB: I did grow up on a farm, cutting wood for the winter, helping my grandparents do gardening work and canning. I hunted, had a beagle. My grandfather bred, raised, trained, and hunted Mountain Curs and Walkers, and I was in the woods all summer and most weekends during school. My parents both worked to make ends meet. Everyone had a pretty simple existence. My grandparents kept meat in the freezer from wild game they hunted or a cow or pig they raised for food same, going to the store only to purchase paper goods or spices or things of that nature, the occasional bag of chips or soda. My parents were the same way. We didn't have all of this processed way of living. I was taught that you gotta work and earn your way in life.
Rougarou: How do you understand or define Midwestern culture? And do you feel that your writing embodies that culture?
FB: Midwestern culture for me is defined by traditions, values, and family. Holidays. Birthdays. Bonds between men and women and how they help one another when shit hits the fan. Most everything I've written deals with family and roots or the bonds they hold with one another, good or bad.
Rougarou: Do you see contemporary Midwestern writers like yourself, Donald Ray Pollock and Bonnie Jo Campbell continuing on from where writers of the Revolt from the Village movement in the 1920s like Sherwood Anderson and Edgar Lee Masters left off?
FB: That's possible. I've only read Sherwood Anderson and that's been some time ago. But Donald Ray and Bonnie Jo each write about the human condition, issues of struggle and strife, poverty, addiction, and the things they know from where they were raised and live. And they do it well. And in my opinion much better than myself.
Rougarou: Your book Crimes in South Indiana, in my opinion, explores the gothic and the noir. Were you thinking about these literary traditions during your drafting of these stories?
FB: Not really. I'd never really knew of the term until I'd heard someone reference hillbilly noir, and even then I didn't know what the hell that was. Like I said, I'm not into being classified. So I wasn't aware of it when I wrote it. When I write, I don't sit down and think of where my writing could be classified or what category it might fit into. I just try to write what interests and impacts me and hope it's interesting to others. And no, I never thought about the larger literary traditions or anything of that nature. Hell, I was happy to land an agent.
Rougarou: The stories in Crimes in Southern Indiana reveal the dark underbelly of the Midwest, its decay, its splintering of small town homogeneity—which most people from the region see and experience everyday—yet people not from or living in the Midwest appear largely unaware of. Do you believe this has to do with the sanitized "heartland" image that's plastered in magazines and portrayed in movies and TV?
FB: Most people in this day and age are only interested in their area and what affects them. The only people who might be paying attention are those who look at poverty or crime or drugs or cost of living, people who do statistics or studies. So, the normal everyday person wouldn't know. Just as I wouldn't know about the issues of where you live. It's not like someone in Alaska is talking about fuel prices in Indiana. Or people in Indiana are talking about fuel prices in Alaska. As far as the Heartland image, I don't know. To me the Midwest has always been an area that most people view as a place of comfort, hardworking people, farming communities, small towns, corn fields, and easy going and laid-back America. But I really can't say how others perceive where I'm from. It's just another label. It's not a truth.
Rougarou: You've written one story collection, Crimes in Southern Indiana, and two novels, The Savage and Donnybrook. What are you working on now?
FB: I've been waiting on edits for a manuscript I wrote based on my father's time as a Marine in the Vietnam war and my time working in a factory. I combined the two elements to create a character known as Miles. Probably my best work. And I've turned in a rough draft of short stories to my agent along with 100 pages of a new manuscript. And while I'm waiting on book edits, I'm working on some nonfiction about my father and his time in Vietnam and how that influenced me growing up.
Rougarou: Finally, are there any Midwestern writers, contemporary or not, that you think people need to read?
FB: I read a lot of different authors: Kyle Minor, Alan Heathcock, Donald Ray Pollock, Bonnie Jo Campbell, Melissa Fraterrigo. I recently read Hillbilly Hustle by Wesley Browne, and now I'm reading a nonfiction book by John L. Plaster titled Secret Commandos. He has another book SOG I plan on reading and after that I plan on reading The Night Trilogy by Elie Wiesel. Then some more nonfiction books by war veterans.
Frank Bill is the author of the novels Donnybrook and The Savage, along with the story collection Crimes in Southern Indiana, a GQ Book of the Year and a Daily Beast best debut novel of fall 2011. He lives in southern Indiana.